So you have installed
Bootcamp
and
Windows 7
and then you realize there's no sound, so this are 4 simple steps you can follow to enable the audio in Windows 7 on Bootcamp.

This is a useful guide if you have the problems like this:
1- You have no audio or sound.
2- In macbook pro, you may also see a red light in your audio jack.



So here's the solution:


1- Download the Macbook Pro

Cirrus Logic CS4206A

, google "CirrusAudio.10.6.1.zip". or use the link here.
2- Open and
Extract the right type of Driver (depending on your windows XP/ 7/ 32 bit/ 64bit)
3- For Windows 7, Right Click on exe file of driver. Select Properties> Compatibility > Check run in compatibility as shown below. Select Windows Vista from drop down menu and Click OK.
Again, its
all depends what version of Windows you use
. As for me (win7) you dont have to check anything.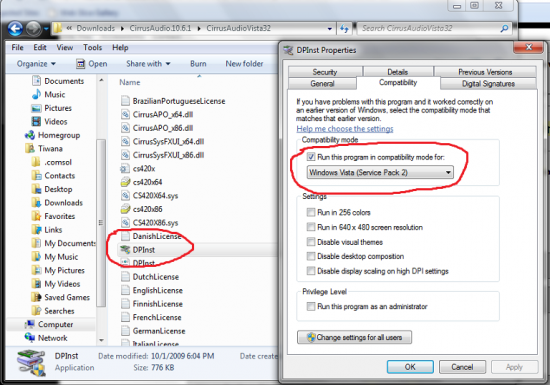 4. Double click the driver and install. Astalavista. DONE !!
Read more